Protecting Students Since 1932
Rising health care costs, state insurance requirements and budget restrictions — these are the challenges you face every day. Pupil Benefits helps you manage that uncertainty and provide your district with comprehensive coverage. We proudly protect nearly 700,000 students and 400 school districts in New York State. With eight decades of experience providing student accident insurance in New York, you can rely on us as a valuable partner in your school district.
Key reasons to choose Pupil Benefits Plan:
All claims are handled in-house to assure exceptional service

Our strong relationships allow us to provide you with multiple plan options

One number to call to have all your questions answered

Enhanced claim reporting:  at-a-glance analysis with monthly, bi-monthly or quarterly reports

We are a true partner in your risk management and cost control efforts
Managing Risk
Pupil Benefits helps you manage risk better by analyzing key data and developing smart strategies
Our loss analysis data helps you develop a safer environment
Know your claim history through year-end reports
Analyze claim loss and rate history
Areas where safety can be enhanced
History and location of each injury
Interscholastic sports risk exposure
Losses compared to all member schools
Percent of loss according to location & activity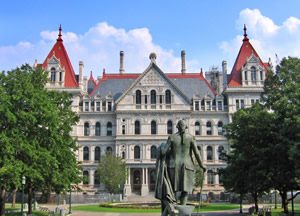 1932 – The first athletes were covered in the fall of 1932 for $.40 cents per student. Sixty schools bought coverage for 1255 students being offered by the New York State Public High School Athletic Association.
1941 – In 1941 the growth and popularity of the coverage raised the awareness of the NYS Insurance Department. Deemed a viable insurance option, a separate corporation was formed that reported directly to the NYS Insurance Department. The corporation became Pupil Benefits Plan, Inc. once K-12 coverage was added. To the surprise of many experts in "the field", there is a statute in the McKinney's Consolidated Laws of New York adopted specifically for the Plan, a very rare occurrence.
1950 – Initially operating out of Manhattan, the Plan eventually moved to the Albany area in 1950, residing here ever since. We are governed by a 24 member Board. They each volunteer their time and their combined experience as School Superintendents, Business Managers, Athletic Administrators, Physicians, Dentists and other public professionals, instrumental in shaping the direction of the organization. In all there has been only five Executive Directors since the inception of the Plan. Our mission has always been simple: Be certain the Plan functions for the schools, by the schools and through the schools.
Today – Our membership is strong with over 55% of New York districts utilizing what is essentially their own plan, thus forming a sizable consortium. Our members are most important. Without their support we couldn't accomplish our goals. It was once said, "With the concept of maintaining a strong membership being first and foremost, it will always enable the Plan to take care of the unfortunate things that happen to some of them".
Our Leadership Team & Their Years of Service
Executive Committee 2022-2023
Michael Graney – President, Queensbury
Michael Kardash, Stillwater
Stanley Maziejka, Glens Falls
Dr. Ryan Sherman – Executive Director
William Bates – Council, 45 years
Ted DeVoe, Branchport
Gregg Barthelmas, Recording Secretary
Thomas McGuire
Executive Director for 41 years. Retired.
The Pupil Benefits Leadership Team would like to express our deep gratitude for Tom's unwaivering commitment and guidance over his 4 decades of leadership. Thank you!
Board of Directors 2022-2023
Gregg Barthelmas, Superintendent, Schuylerville CSD, new
Dr. Nick Belasco, DO, CAQSM – Sports Medicine, Sugar Loaf, 6 years
Dr. David Civale – Chiropractor, Scotia, 23 years
Ron Clamser – Assistant Superintendent, Dobbs Ferry, 4 years
Tom Combs – Executive Director, Section XI, Smithtown, 4 years
Lyn Derway – Retired Assistant Superintendent, Brunswick, 5 years
Ted Devoe – Business Relations Associate, Branchport, 7 years
Dr. Daniel DiChristina – Orthopedic Surgeon, Syracuse, 3 years
Brita Donovan – Superintendent, Galway, 4 years
Lisa Failla – Assistant Superintendent, Monticello, 4 years
David Gleason – Retired Assistant Superintendent, Rockland BOCES, 3 years
Michael Graney – Superintendent, Bolton CSD, 6 years
Corey Green – Superintendent, Owego-Apalachin CSD, 1 year
Glen Jones – Physician's Assistant, Ellis Hospital, Schenectady, 9 years
Michael Kardash – Retired Athletic Director, Stillwater CSD, 5 years
Stanley Maziejka – Retired Superintendent, Stillwater CSD, 14 years
Dr. Michael McCarthy – Retired Superintendent, Mechanicville, 18 years
Carl Normandin – Executive Director Section 10, Canton, 9 years
James Rose – Director of Health, PE and Athletics, Yonkers, 4 years
John Wells – Retired Athletic Director, Gouverneur, 20 years
Scott Whittemore – Assist. Superintendent of Business, Queensbury, 3 years
Nelson Wong MD – Physiatrist, Middletown, 1 year
Jeffrey Ziegler – Retired Superintendent, Fort Edward UFSD, 5 years